Visiting Kochi for business? Stay in luxury at the Coral Isle hotel, and make the most of your business trip! Coral Isle is one of the top upscale hotels in Kochi serving business & leisure travelers, executives, and the corporate event segment. Located close to the North Railway Station & Metro Station, the hotel's idyllic location gives you easy access to the business hub of Ernakulam and the airport.
The centrally located Coral Isle hotel offers luxurious comforts and relaxation for tourists and corporate travelers alike. As a premier 4-star luxury business class hotel in Kochi, Coral Isle offers luxury amenities like the Thai Spa, Swimming pool, fine dining, and superb venues for events.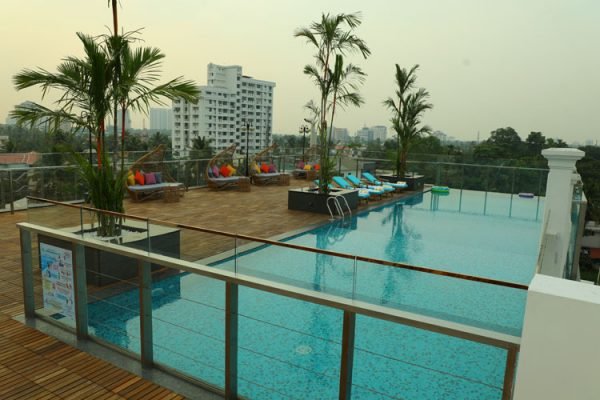 Sophisticated interiors and modern décor mark the elegant rooms of Coral Isle! After a busy day conducting your business activities, you might be quite exhausted. Relax and rewind in the comfortable environs of Coral Isle – the Business Class Hotel with Swimming Pool in Kochi! Our rooms are designed to ensure that your stay is comfortable and productive. We provide you with an atmosphere of comfort and relaxation. The luxury Banquet Hotel promises a luxurious, worry-free stay in Ernakulam. .
Being a top business class hotel in Kochi, Coral Isle offers complete relaxation after a full day of hectic business meetings. Guests can relax by the large pool, indulge in spa treatments, or sip on some cocktails at the bar. You can dine in style at our restaurants which serve delicious Indian and international cuisine.
Service with a smile is the top priority at Coral Isle! Our gracious staff goes the extra mile in making your stay a thing to remember! Our experienced planning staff helps you to organize the perfect business meeting in one of our event spaces as well. We also arrange car hire and airport shuttles for our guests.
When you can have the best of luxuries at hand in the heart of the city, why go anywhere else to stay? Prime business class hotel in Kochi – Coral Isle welcomes you to step into luxury and comfort!